How a Doctor-YouTuber Built 5 Streams of Passive Income and Achieved Financial Freedom
Analyzing Ali Abdaal's creative empire
How a Doctor-YouTuber Built 5 Streams of Passive Income and Achieved Financial Freedom
Analyzing Ali Abdaal's creative empire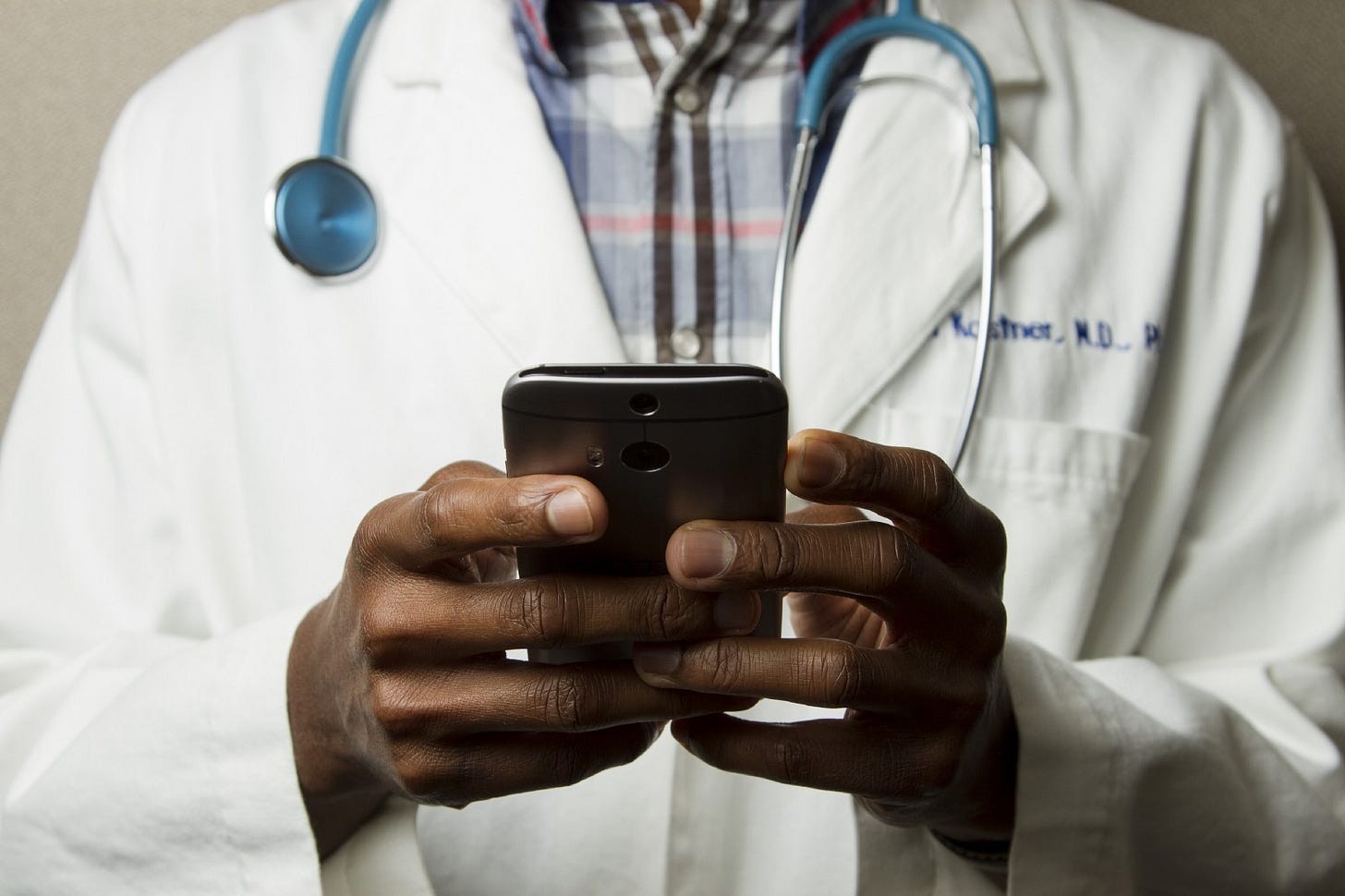 Photo by National Cancer Institute on Unsplash
The internet has changed our understanding of a dream future. Ever since Tim Ferris wrote "The 4-Hour Workweek," the ideal picture of tomorrow has transformed to sipping mojitos in Bali or skiing in Southern France funded by passive income sources.
Today we will be examining a case study of a content creator who has dipped his feet into both the traditional and "new rich" paths. Ali Abdaal is currently located in Cambridge, England, working shifts at a hospital, but he has built up a system of passive income that could let him drop his work and go island-hopping in Southern Asia indefinitely.
Ali is a Cambridge University graduate and junior doctor working in the United Kingdom's National Health Service (NHS). At first, this looks relatively ordinary for a Cambridge University Medical student, so what makes Ali different?
He has five different streams of passive income that together generate more than three times his income as a junior doctor in the NHS.
A recent video by Ali gives a weekly breakdown of his earnings in a week, both from his job and his streams of passive income. We will take a deep dive into how much he earned each week from each income source.
Disclaimer: Throughout this article, the numbers I am mentioning will be top-line revenue, where we will not be considering other factors such as taxes, national insurance, or student loans.
---
Full-Time Job
: Junior Doctor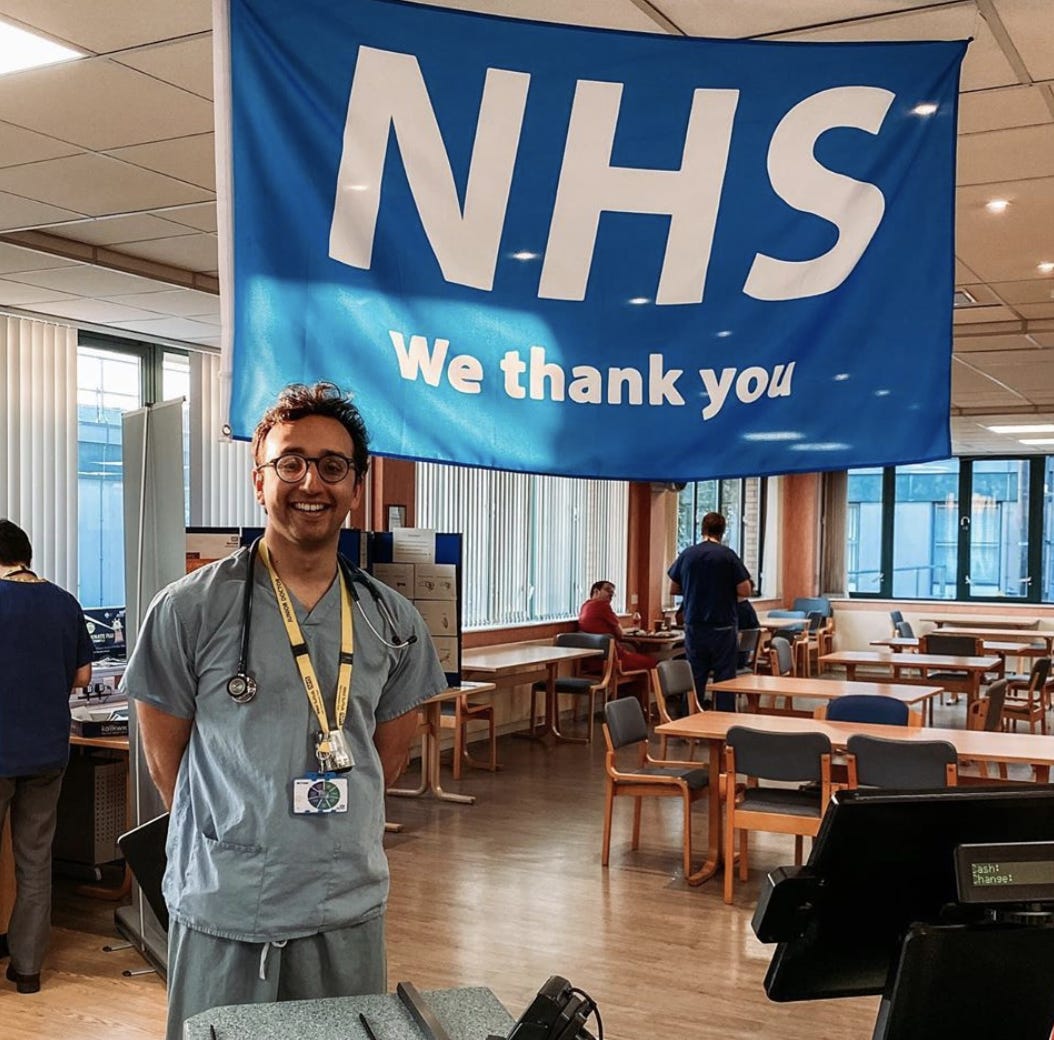 Photo courtesy of Ali's Instagram
Ali is working at a hospital in Bury St. Edmunds where he is on the obstetrics and gynecology placement. As he is a junior doctor, it is comparable to an intern year in the American medical system, where you are a doctor but not quite a resident. His annual salary is £38,000 (47,602USD), which breaks down to an hourly rate of around £15.36 (19.24USD).
Many of you may ask, how does he earn so little as a doctor? The U.K. has a nationally-funded health care system, unlike the U.S. In the U.S., a fully-qualified doctor can earn up to four times that of a doctor in the U.K.
His weekly top-line revenue as a junior doctor in the NHS? $1387.
---
1. YouTube:
YouTube Adsense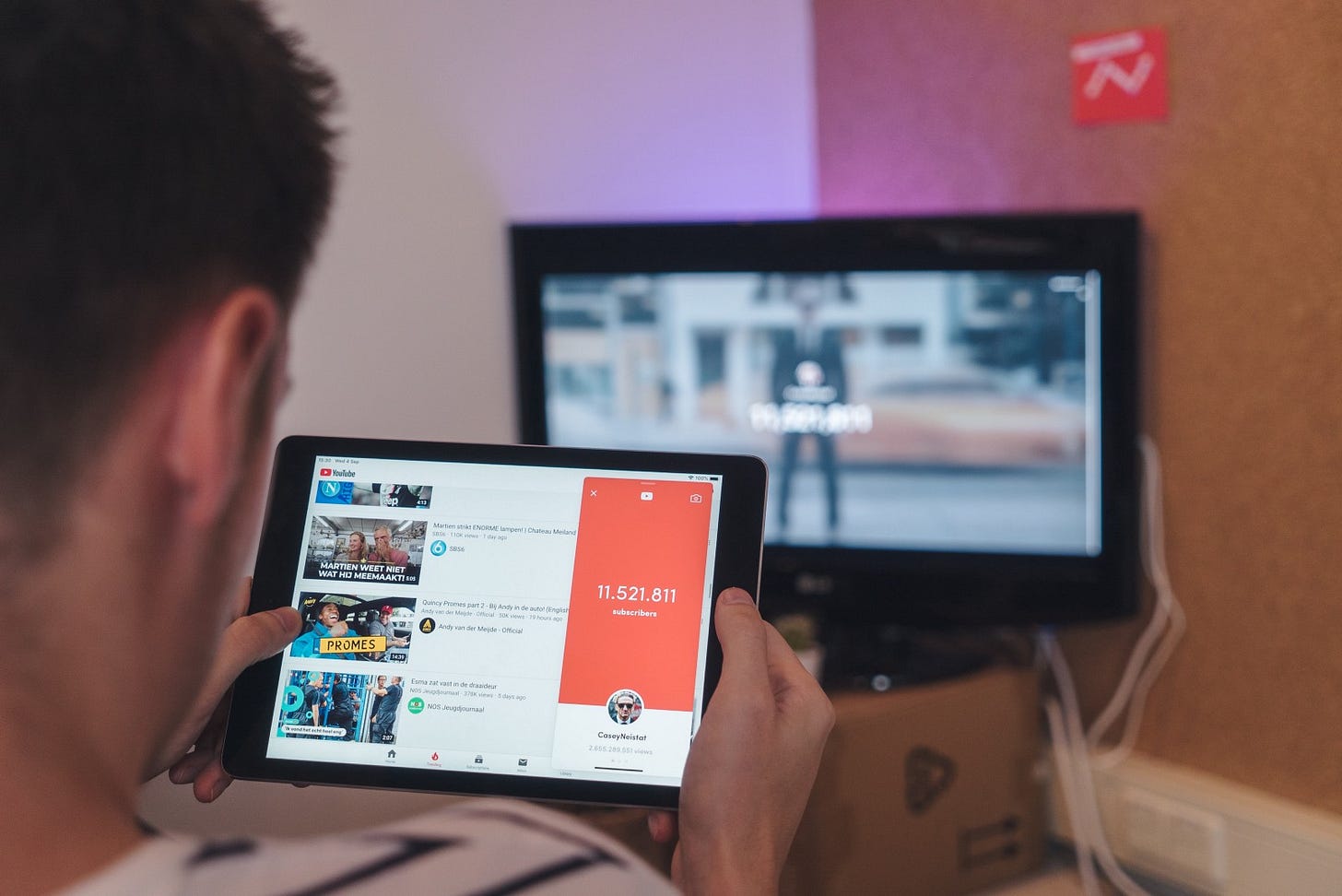 On the side, Ali has created an extensive empire built on his experience with medicine and education. Ali's YouTube channel has accumulated over 47 million views over the years. That number of eyeballs on his content has led to him as an authority figure on topics such as productivity and study habits.
Ali's most popular videos center around the different study techniques and tips that he used at Cambridge University. This should provide a glimpse of what his audience looks like:
"How I take notes on my iPad Pro in Medical School": 4.7 million views

"How I ranked 1st at Cambridge University: The Essay Memorization Framework": 3.1 million views

"How to study for exams — Evidence-Based Revision Tips": 1.75 million views

"Which iPad should you buy — Analysis of iPad Pro v. iPad Air v. iPad mini": 1.27 million views
YouTube Adsense pays the creators of the video a portion of the earnings based on the number of people that watch the ads at the start, middle, and end of the video. Adsense pays the creator based on CPM (cost per thousand views) and that ranges from video to video. The YouTube algorithm will take into account viewer location (U.S. has the highest CPM), video category (finance-related videos have the highest CPM), viewer retention, and more to provide you with a suitable CPM.
Adsense is not restricted to the newest video you post. Whenever someone has watched any of the videos that you have produced and uploaded, you will retain some earnings. For someone like Ali with over 270 videos, his popular content will continue to earn throughout the year.
His weekly top-line revenue from YouTube Adsense is $1179.
---
2. Skillshare: Skillshare Classes and Affiliate Sign-Ups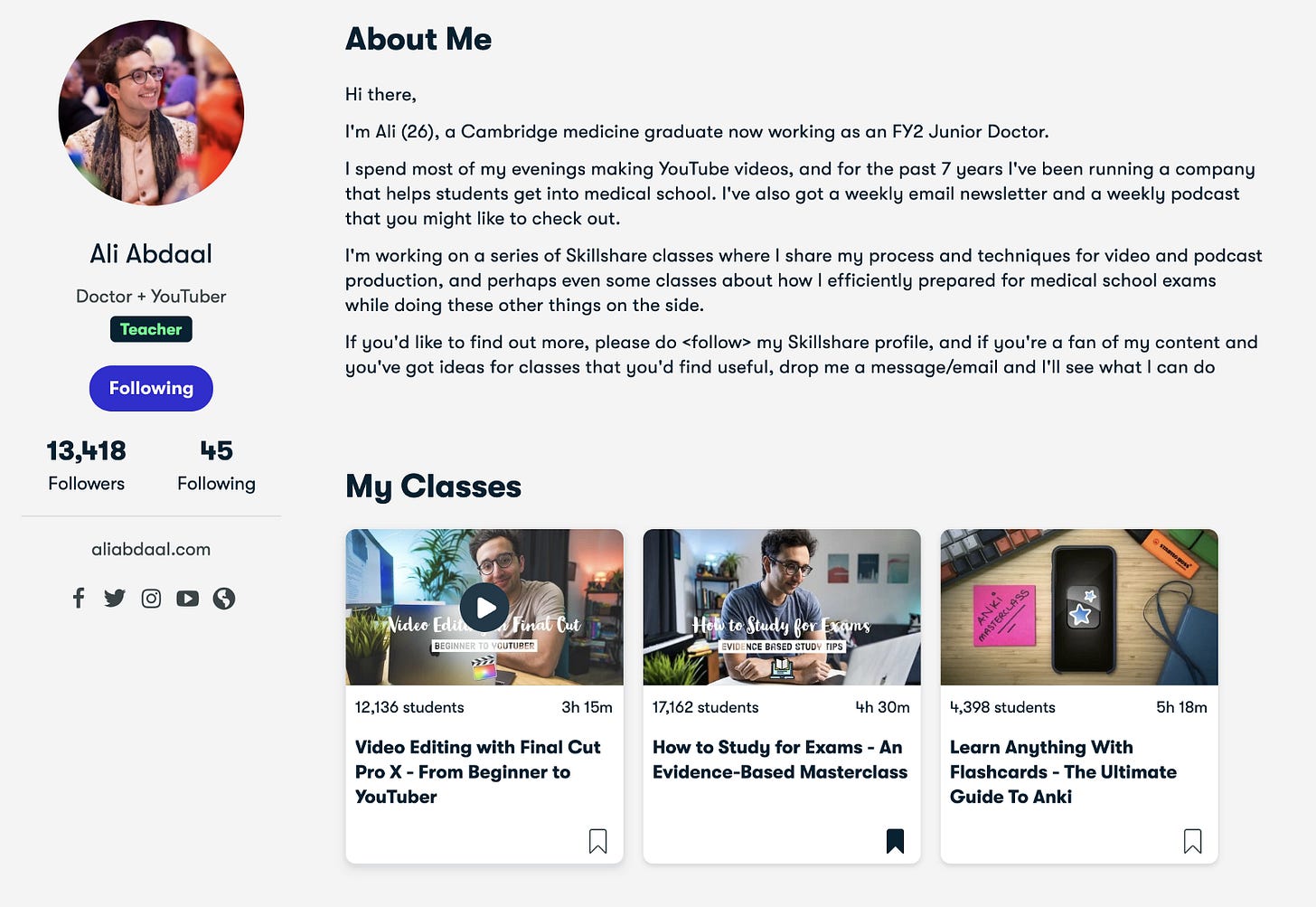 Photo Courtesy of Skillshare
Skillshare is an online platform filled with classes about creativity, content creation, and skill development. Skillshare's business model is subscription-based (think Netflix). The platform has a premium subscription you can only access certain classes if you pay $15 a month.
Ali is a course creator on Skillshare, where he teaches three different courses:
"Video-Editing with Final Cut Pro X — From Beginner to YouTuber": 12,136 Students (3 hours and 15 minutes long)

"How to Study for Exams — An Evidence-Based Masterclass": 17,162 Students (4 hours and 30 minutes long)

"Learn Anything With Flashcards — The Ultimate Guide to Anki": 4,398 Students (5 hours and 18 minutes long)
For each minute of premium watch time, Ali gets a cut of the paid subscription. The rough translation of watch time is as follows. For 3086 minutes of watch time on Monday, Ali earned $169, equating to roughly five cents per minute of watch time. This model is similar to Medium, except for a video format:
Payment based off of watching and reading time

Payment is taken from premium subscription

Creator has the incentive to build a following on the platform or send their other users to this platform
Skillshare recognizes the incentive for Ali to transfer his following from other platforms to Skillshare. They further encourage that through their affiliate program, where if a user signs in through a link provided by Ali, he earns $10. This encourages Ali to plug this Skillshare link in certain related videos, giving Skillshare new users and exposure — and Ali money.
His weekly top-line revenue from Skillshare views is $1426 and revenue from the Skillshare Affiliate Program is $120.
---
3. Company Affiliate Partnerships
: Paperlike Screen Protector and Epidemic Sound Affiliate Links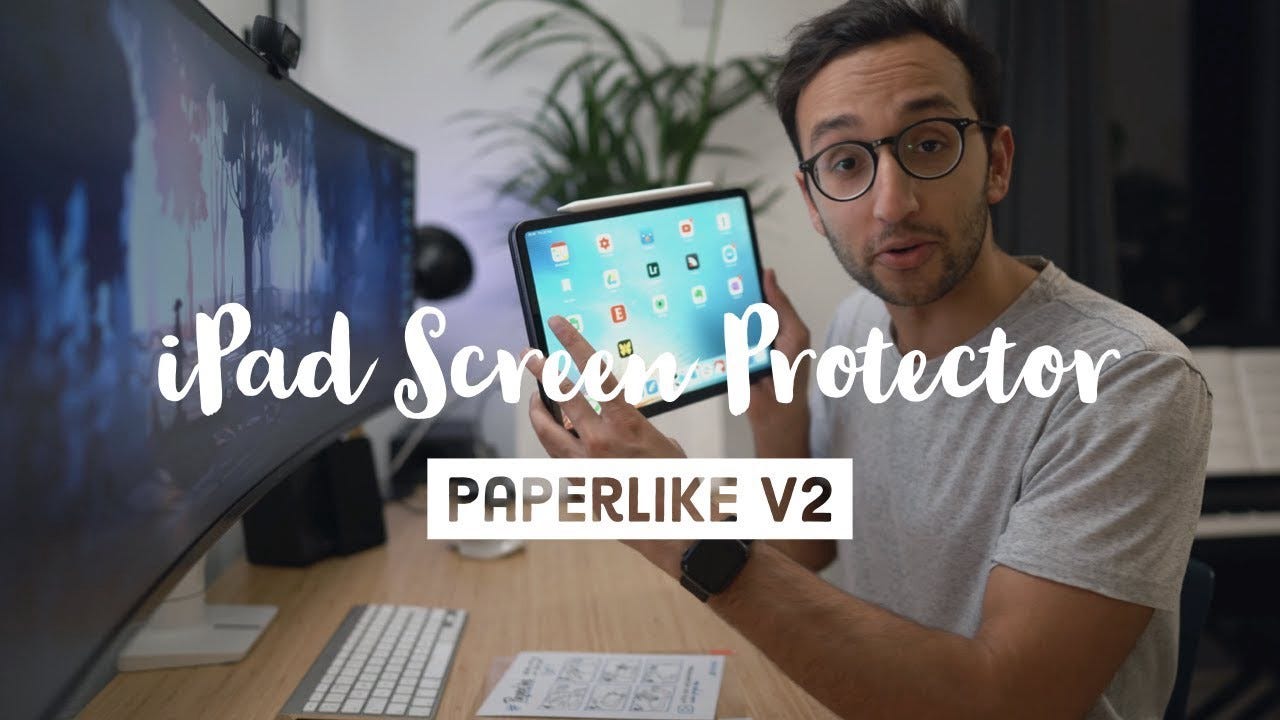 Photo Courtesy of Ali's Youtube
Everyone has favorite products, apps, and companies. As a content creator and influencer, you can begin to reach out for partnerships between those companies. Ali mentions that he has many affiliate deals but the main two that convert the most are from Paperlike and Epidemic Sound.
This is due to those companies relating well with Ali's audience.
Paperlike makes screen protectors which makes the writing experience on an iPad feel like writing on paper. As a significant portion of Ali's audience (myself included) came from the videos about how he took notes on his iPad and study videos in general, they have a vested interest in a product like Paperlike.
Epidemic Sound reaches out to another section of the audience, those who are interested in creating content themselves. Epidemic Sound is a company that provides a massive database of royalty-free music that content creators use. Ali also has a series of videos about videography, video-making, and succeeding on YouTube, leading to a portion of his audience purchasing epidemic sound to create the content of their own.
His weekly top-line revenue from Paperlike and Epidemic Sound affiliate sales is $1095.
---
4. Amazon Affiliate Program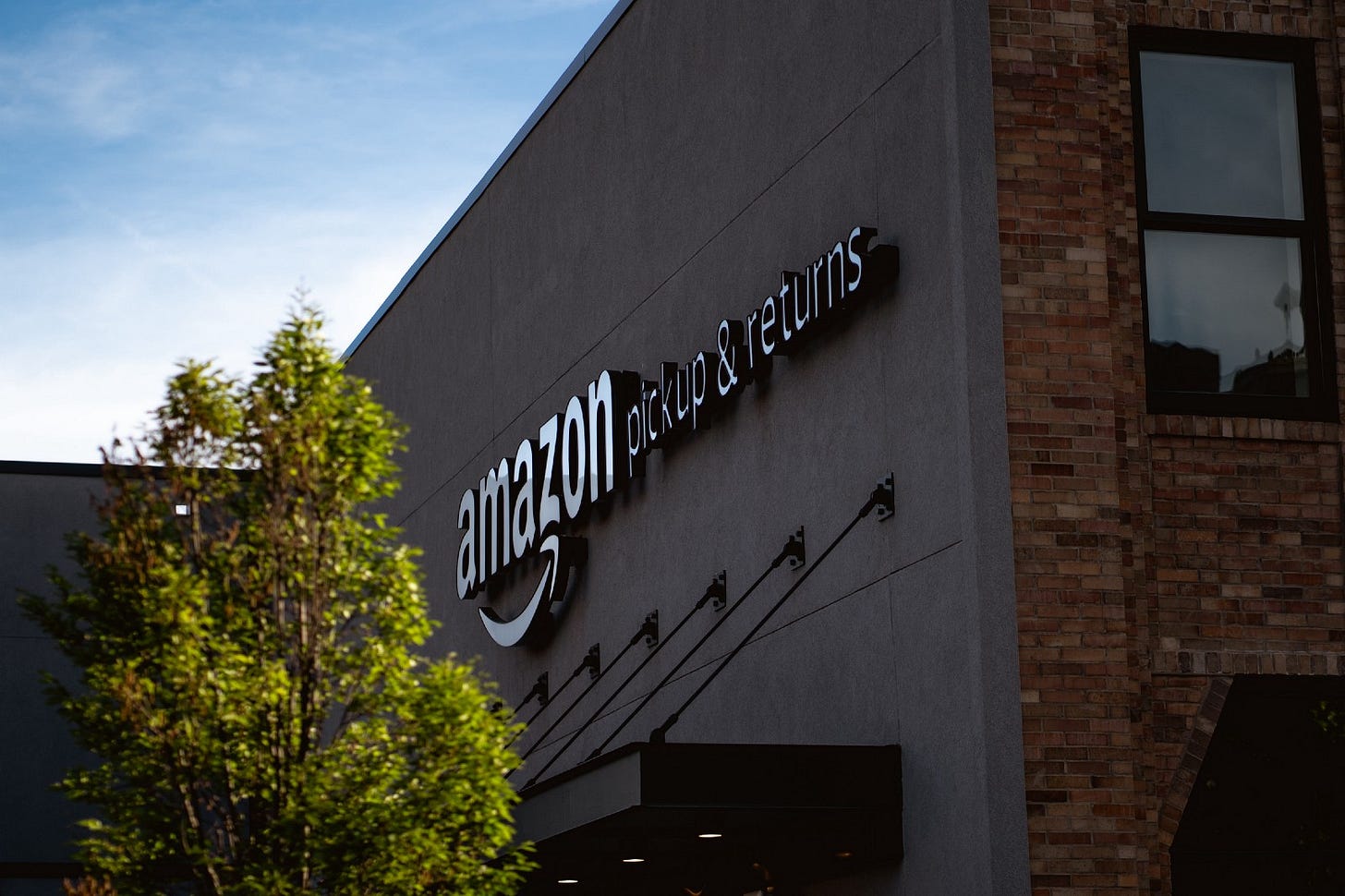 Photo by Bryan Angelo on Unsplash
It was probably surprising not to see Amazon mentioned in the above affiliate program, but their affiliate program is so extensive that it gets its own section. The Amazon affiliate program is the largest in the world, allowing you to earn between 1 and 10% commission on all purchases made on your links.
The links can be distributed by Ali in numerous formats. He can post them on his blog, in the description of his YouTube videos, through his social media channels and most notably through an email newsletter. The key here is to only recommend products that you use yourself and to be authentic about your reviews, do not come off as someone spamming affiliate links to get sales.
Ali generally recommends books, notebooks, stationery as it fits the interest of his audience. He recognizes that these items are generally relatively inexpensive and thus does not result in a lot of income. However, he does not plug computer monitor or camera lens affiliate links because he knows it does not fit his audience and would come off as profit-driven.
His weekly top-line revenue from Amazon's affiliate program is $71.
---
5. Company:
 6med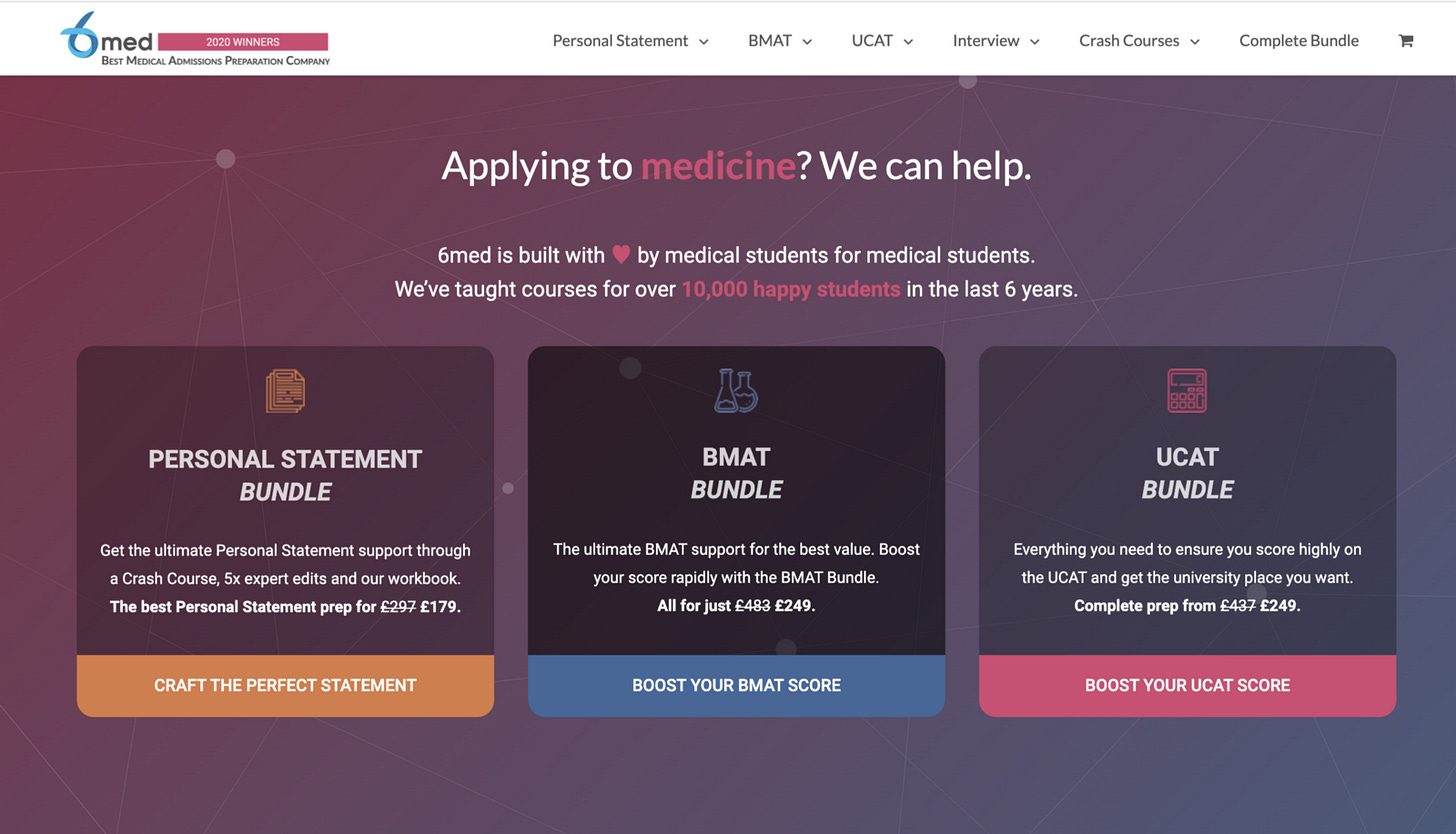 Photo courtesy of 6med
Combining his experience with applying to medical school with his understanding of study techniques, Ali started 6med with six other friends while at school. Initially, they just ran one course at their local mosque but soon realized they could market it nationally. The goal behind the business was that many large corporations for these courses and 6med wanted to improve the quality, lower the cost, and give free courses to people coming from low-income backgrounds.
Now, 6med is a full-fledged medical school admissions preparation company, with crash courses for the BMAT, MCAT, UCAT as well as interview and personal statement review options. According to Ali, the company generates over £150,000 in annual recurring revenue (around $187,905). Due to the size and different layers of the company, the money listed below is taken just from the sales of the video courses created by Ali, and not earnings directly reflective of the company.
His weekly top-line revenue from 6med is $369.
---
My 5 Takeaways From Ali
During the week, Ali made a total of $1387 of active income from his job and a total of $4263 from his passive income sources, more than three times his active income total! However, this was not an overnight success, as Ali started his journey in making money online ever since he was a 12-year-old, offering to code websites for others.
Diversify your content output system. Even though Ali is most well-known through his Youtube videos, he captures his audience in an email list, he hosts a podcast with his brother and writes a blog. This is an example of David Perell's strategy of building your audience on open platforms (YouTube, Twitter, Facebook) before transferring them to owned platforms (email lists, personal websites, podcasts). You do not own your audience on open platforms. If YouTube shuts down, you lose access to all your subscribers if you do not have an email list for them.

If you are passionate about a product or service, reach out to these companies yourself. Although they may not have a built-up affiliate program like Skillshare or Amazon, try to negotiate a deal yourself. Having a product you are truly invested in is great because you will constantly have opportunities to promote them without coming off as profit-driven.

The term "passive" is often misleading in that people conclude that there is limited action you need to take in order to get there and sustain it. It is not an overnight transition and it takes a lot of time, effort, and luck where you can quit your job and start making money online.

What matters is to get started. Although you may not have the same online business experience that Ali has had throughout his lifetime, you can leverage the skills and knowledge of your current business to provide value to others.

When you distill it to the very base level, making money online is just providing some sort of value that people are willing to pay for. There are three main levels of these transactions:
Level 1 (Services): Develop a skill that people are willing to pay for and then find people to pay you for it. Generally how everyone gets their start. Examples: freelancing, copywriting, web and graphic design, coding.

Level 2 (Products): Courses, drop shipping, or affiliate marketing are the main ways you can sell products online. These are often more advanced because it is harder to build enough trust for people to buy the product.

Level 3 (Attention): Building up a large audience that trusts you so you can leverage them to buy your services and products. Platform examples: Youtube, Instagram, Twitter.
Pick a level, build an audience, and produce!